Perspective - Students
PollY - year 7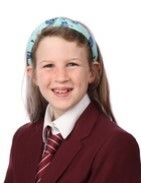 My name is Polly and I want to tell you about my experience joining KLS as a new student. I knew I was starting a new chapter in my life and felt both excited but also a bit anxious. This is a natural feeling when you go through a period of change and transition. The school is very large but also full of friendly students and staff, and everyone will make sure you feel welcomed. I was practically bursting full of emotions, mostly excitement and joyfulness. My first lesson was English, and we studied about a character called Al in our first school novel which I really enjoyed. I am now looking forward to studying Beowulf and Chaucer.
Manase - Year 8

My name is Manase and the first thing I would say to anyone coming to KLS is that it is an amazing place. I was both nervous and excited about joining Year 7, but I soon made friends and I love the fact there are so many extra-curricular activities to do. I would personally recommend the clubs for football, netball, rugby and cooking! I feel like the school is my home and we have a Head of Year who is thoughtful, kind and passionate about all of us doing well. I can't wait for the future. Come here if you want to 'unlock your potential'!
Lewis - Year 8

I am Lewis and I joined KLS from Tanners Wood. I first realised I had been accepted when I got a text from my family and I was over the moon with happiness. I went to the summer school in August and really enjoyed it. I didn't know many people joining Year 7, so I was able to make some early friendships. The school wants you to do well and the teachers here push you to achieve – you can get recognition points for answering challenging questions, for going out of your comfort zone and for giving learning your best shot each day.
Clara - Year 8

Hi – my name is Clara and I am coming towards the end now of Year 7, which I can't quite believe – it has gone so quickly! To start I would like to make clear to anyone coming to Kings Langley School that there is absolutely nothing to worry about. I was nervous about the transition when I was in Year 6 but from the moment I went to the Information Evening, I felt reassured and comforted, and made very welcome. What also really wowed me was the sheer number of successful students who were clearly enjoying their time here. The teachers are friendly and warm, and I have enjoyed so many fascinating lessons. I have a real sense of hope about my future and so glad I made this choice of school. So, if you are reading this and are a student lucky enough to be coming to KLS, I wish you all the best for your new journey here. 
Oscar - Year 11

My experiences and opportunities at Kings Langley School have made me a part of a new community and given me a sense of belonging and importance. I always remember my first day when I had my uniform which was too big! I knew I would be facing lots of challenges and that I might find things hard at first. However, I knew as soon as I started the school I could unlock my true potential, if I tried my best, worked with the brilliant teachers and support staff, and developed my inner character.
There are lots of opportunities at Kings Langley School if you wish to push yourself out of your comfort zone. I was always interested in dancing when I was young, and I decided to partake in a dance club after school in the drama room. During this time, we focused on different techniques in a fun and energetic way. I also tried the drama club, with Mr Flowers, a drama teacher, who is a little dramatic but a truly inspiring teacher! I was able to be involved in a number of after school performances and events. If you are musical, well you are in for a treat because in the music department you can practise using instruments like a piano, different types of guitars and loads more. This can be for anyone, no matter what level you are; I'm learning to play an electric guitar. I have not been a part of the other clubs but there are many, many more such as: football, netball and rugby you could do as well, just to name a few.
When you are a part of our school community you will have to develop a routine so that you can get your homework done whilst allowing time to yourself. At the start I found this hard as I was not used to being so independent. Although this is very different to primary school, you will get used to it with support from your form tutor, they will help you to take these little steps and in 21 days you will be brilliant and an expert! The expert teachers, and new friends, will help you to be school ready. I would advise you to sort out everything at night before you go to bed, so you do not need to stress and pull your hair out in the morning, which could make you late or forget something. This is very important, if you get in this routine it will help.
There will be subjects that you like more than others however you still must listen and learn. We are lucky to have different specialist teachers teaching us throughout the day. They make our learning enjoyable and memorable. At lunchtime there are different sections of the canteen area: hot, cold and snack hut. I can honestly say that our food is delicious. I often visit for my breakfast too, especially on a cold day for a hot chocolate!
Sereena – Year 12

I remember in the Summer of Year 6 how undoubtedly anxious I was to begin the new chapter that would shape my life. I have been a student at Kings Langley School for almost 5 years and now that I look back, I realise how unnecessary all that worry was.
We were welcomed into the school and presented with new opportunities across the spectrum: from the arts, to music, drama, and sports. Kings Langley School helped me find my passion for sports like rugby, which I explored further outside of school, as well as netball. Moreover, I have recently had the opportunity to compete in the Rotary Young Chef Competition, which was definitely an experience I won't forget! The amount of extra-curricular or the extended day clubs, to me, seems unsurpassable as there is undeniably something for everyone!
Undisputedly, all of the teachers are supportive and kind. As much as they want us to learn and do well, our wellbeing and mental status is also important to them: throughout the Coronavirus lockdowns form tutors were giving us check-ups, live lessons, mental health days, sports day online and these helped me get through the isolations and what felt like hours of online learning. I always reflect on this time if I ever have a day where I feel ill or tired and it makes me realise how lucky I am to go to a school that makes me feel like a part of a community. If struggling in a lesson, the teachers will generally make time or devote their lunch times and breaks to help us catch up or aid us on gaps if we have missed out. Furthermore, lessons are made to be interactive and as engaging as possible so knowledge and facts are easily retained, preventing anybody from switching off.
I am one hundred percent sure that Kings Langley will 'Unlock My Potential,' and help me reach my goals of gaining the grades required to study at a top university, so I can fulfil my life's ambition of becoming a neurosurgeon and studying medicine.
Kalilah Year 13                                                                                                               

Since year 7, Kings Langley School has not only provided me with an amazing education, but some of my best memories.
When joining in year 7, I was nervous about fitting in and adjusting to secondary school, since I was the only person from my primary to come to Kings. However, I quickly learned I would love it here. The team building day was one of my favourite year 7 experiences, not only did I bond with my classmates, but I got to know my teachers. It was a lot of fun to have a day off timetable and do fun activities with new friends.
Throughout my time at school, I have received great pastoral support, especially in year 7. If I ever felt nervous or anxious about something I could go to any member of staff and receive help. Assembly offers guidance and information on a range of topics. I think our school really uses assembly time well. I've learnt so much through assembly that I wouldn't have learnt in class. My favourite type of assembly is when we have guest speakers in to talk with us, because we get to hear about subjects and topics from people who are passionate about their work or area of expertise. Additionally, I enjoy form time because we do activities such as reading, weekly quizzes and picture news. I think these form activities are a great way to start the day and I get to talk to my friends about what's going on in the world.
Since year 7, I have taken part in many school trips and extra-curricular activities. I was lucky enough to go on a great theatre experience that our school offers. It also creates lasting memories that stick with you throughout your education. Recently, I went on a trip to Downing College in Cambridge which was a real eye-opening trip and helped me think about my post 18 education.
Our school also takes part in the Duke of Edinburgh and honestly this was one of the highlights of my year. I got to spend time with my friends doing something challenging as we returned to school after the lockdowns. Trust me, it was very challenging but a great experience! I also enjoyed spending time with some of my favourite teachers outside of school and getting to know them better.
Most importantly Kings Langley has helped me flourish academically. I have always been pushed to do my best by my amazing form tutors and subject teachers. I found that over the years the teachers and students develop a strong bond, which is necessary to get the most out of your education. If a student needs extra help, the Head of Year and the Pastoral team are right there to do whatever they can to help students. My form tutors, Mrs Butt and Miss Donovan, are really invested in helping everyone in my form get their best grades which I really appreciate. Especially in GCSE years the year group teachers have been so helpful, offering a range of revision help and materials. 

All these experiences have made my time at Kings Langley one of the most enjoyable experiences of my life. I'm just sad it ended so quickly! Thanks to the school and the amazing teachers I feel well prepared for the next chapter of my life and am hopeful to see how things work out!
Ariana Year 13

I feel privileged to be a student at Kings Langley Secondary School. The school is renowned for encouraging students to work hard, discover their potential and to thrive in various different areas of their passion and interest. This coincides with the school's ethos of self-regulation, stickability and empathy which provides a harmonious school community and helps students be the best person they can be by gaining confidence and self-belief as they transition from student to adult life.
The teachers here are simply brilliant! Every lesson is engaging and thoroughly planned to ensure that students receive the best knowledge which helps them to remain focused and motivated throughout. Furthermore, they are very approachable, especially when it comes to a topic students find tricky. Teachers always take time out of their day and are extremely willing to go the extra mile to assist you or to talk to you about work you may find difficult and to ensure that you understand and strengthen your knowledge.
The school offers a plethora of extra-curricular activities from jewellery making club to debating society. Everyone is guaranteed to find something to interest them and are eager to participate in. The school also, regularly circulates a 'Student Opportunities' newsletter, which contains information about apprenticeship programmes and workshops in different fields of careers. I recently enrolled in a workshop which I found to be extremely informative and beneficial. This opportunity has given me a detailed insight about my career choice which I am passionate about.
I am currently in Year 12 and studying A-Levels at Sixth Form. I feel immensely supported by the school for giving me the confidence to study the subjects I am passionate about. With this support, I know I will be encouraged to be resilient, and I am determined to achieve the top grades for my A-Levels.